Embrace the Magic of Autumn: Top Things to Do in Portsmouth, NH this Fall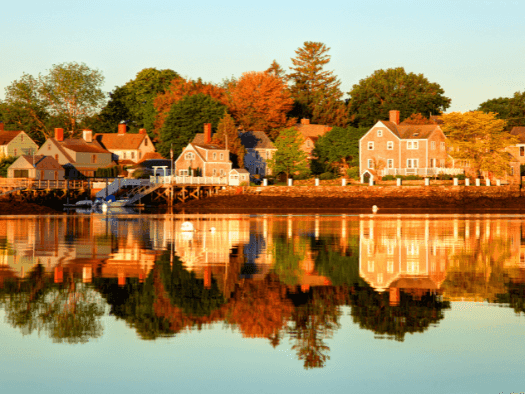 As the crisp autumn breeze ushers in a tapestry of vibrant colors and cozy vibes, there's no better time to visit Portsmouth, New Hampshire. Nestled along the picturesque seacoast, Portsmouth comes alive with the enchanting beauty of fall foliage and a wide array of seasonal activities. Whether you're a leaf-peeper, foodie, history enthusiast, or simply seeking a dose of autumnal charm, Portsmouth has something for everyone. Here are the top things to do in Portsmouth, NH this fall:
Stroll through Historic Strawbery Banke: Step back in time at Strawbery Banke Museum, a living history museum that showcases beautifully preserved homes and gardens dating back to the 17th century. In the fall, the historic district is adorned with the rich hues of changing leaves, providing a perfect backdrop for a leisurely walk and a glimpse into the region's colonial history.
Fall Foliage Cruise: Hop aboard one of the many fall foliage cruises departing from Portsmouth Harbor. These scenic boat tours offer an unparalleled perspective of the autumn colors along the coast, with views of the Portsmouth Harbor Lighthouse and the Isles of Shoals as a bonus.
Apple & Pumpkin Patch Adventures: Embrace the fall spirit by visiting nearby pumpkin and apple farms. Pick your perfect pumpkin for carving or decorating, and savor the essence of autumn with hayrides, corn mazes, and apple picking.



Our Top Picks:

Scenic Coastal Drives: Embark on a picturesque drive along the New Hampshire coastline. Route 1A offers stunning ocean views and opportunities to stop at charming seaside towns like Rye and Hampton Beach. The autumn landscape makes it a particularly delightful experience.
Ghost Tours and Haunted Happenings: As the nights grow longer, delve into the spooky side of Portsmouth with ghost tours and haunted history walks. Learn about the city's eerie past and paranormal legends while wandering through historic neighborhoods and cemeteries.



Our Top Picks:

Fall Dining Delights: Portsmouth's dining scene is a culinary haven year-round, but fall brings an extra layer of coziness. Savor farm-to-table meals featuring seasonal ingredients and enjoy the warmth of fireside dining at some of the city's top restaurants.



Best Season Donuts:

Cheers to Fall Flavors: Fully immerse yourself in the fall flavors of Portsmouth, not only with delicious food but also with a selection of seasonal drinks that capture the essence of this enchanting season.



Our Top Picks:

Visit Prescott Park: Prescott Park, a beautiful waterfront park in the heart of Portsmouth, is a great place to relax and take in the fall scenery. The gardens burst with autumn blooms, and you can enjoy a leisurely walk along the waterfront or catch an outdoor concert or play if events are scheduled.
Local Events: Celebrate the arrival of autumn with Portsmouth's Fall & Halloween festivities.



Upcoming Events:

Art and Culture: Don't miss out on Portsmouth's thriving arts scene. Visit art galleries, museums, and cultural centers to appreciate the creativity of local artists and get a sense of the city's vibrant cultural life.